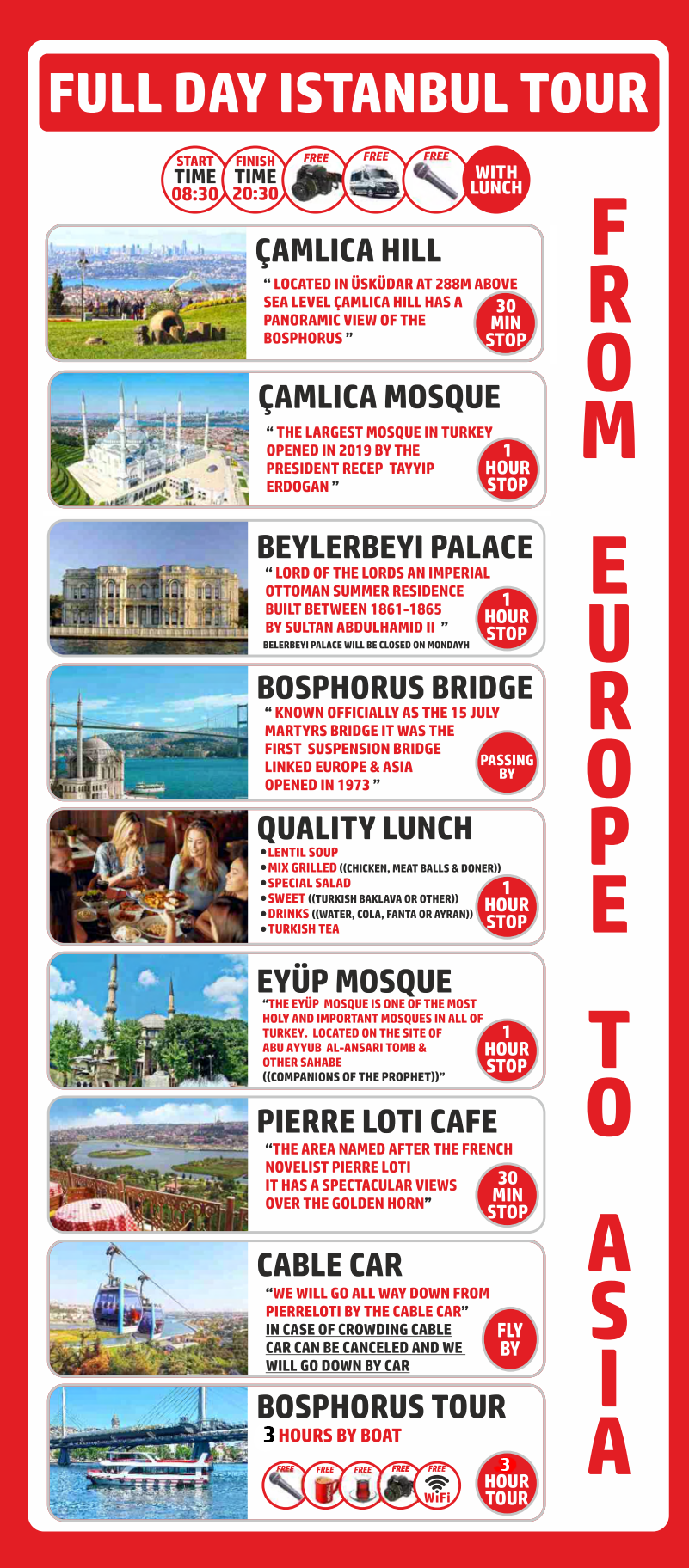 Istanbul Full-Day Tour and Evening Bosphorus Cruise
For the Istanbul Full-Day Tour and Evening Bosphorus Cruise, Around 08:00 – 08:30 in the morning, guests are picked up by car and taken to the area where the tour will start.
First, our tour starts at Camlica mosque in Üsküdar.
Camlica mosque has the distinction of being the largest mosque in history. You can visit or worship for 60 minutes in this mosque, which President Recep Tayyip Erdoğan opened.
After The Camlica Mosque, We Will Stop For 30 Minutes At Camlica Hill, Wich Located In Uskudar. At 288M above sea level, Camlica Hill Has A Panoramic View Of The Bosphorus.
After Camlica Hill, We will visit the Beylerbeyi Palace, made in the 19th century.
A palace overlooking its vast blue, built between 1863 and 1865. Beylerbeyi Palace is a unique place where history and historical characters are the guests. You can visit for 1 hour.
Officially known as the 15 July Martyrs Bridge, the 1500 m-long first connected suspension bridge crosses from the Anatolian side to the European side.
When we pass to the European side, a quality lunch will await you. A magnificent lunch is eaten for 1 hour.
After a beautiful lunch, we will go to Eyüp Mosque, one of the holiest mosques in Turkey. Eyüp Mosque is a mosque where the tomb of Ebu Eyüp el Enser is located. You can visit or worship for 1 hour.
You can go to the top of Pierre lot, located right next to the Eyüp mosque, to search for the paintings, and the view will reveal the beauties of Istanbul.
After visiting for 30 minutes, you will be dropped down by the cable car.
Next then this beautiful view, you will go on a 2-hour Bosphorus cruise to watch all the beauties of Istanbul from the sea.
After a 3-hour Bosphorus tour, you will be dropped back at your hotels.
You can make reservations by site or directly from WhatsApp and pay on the car.