About this tour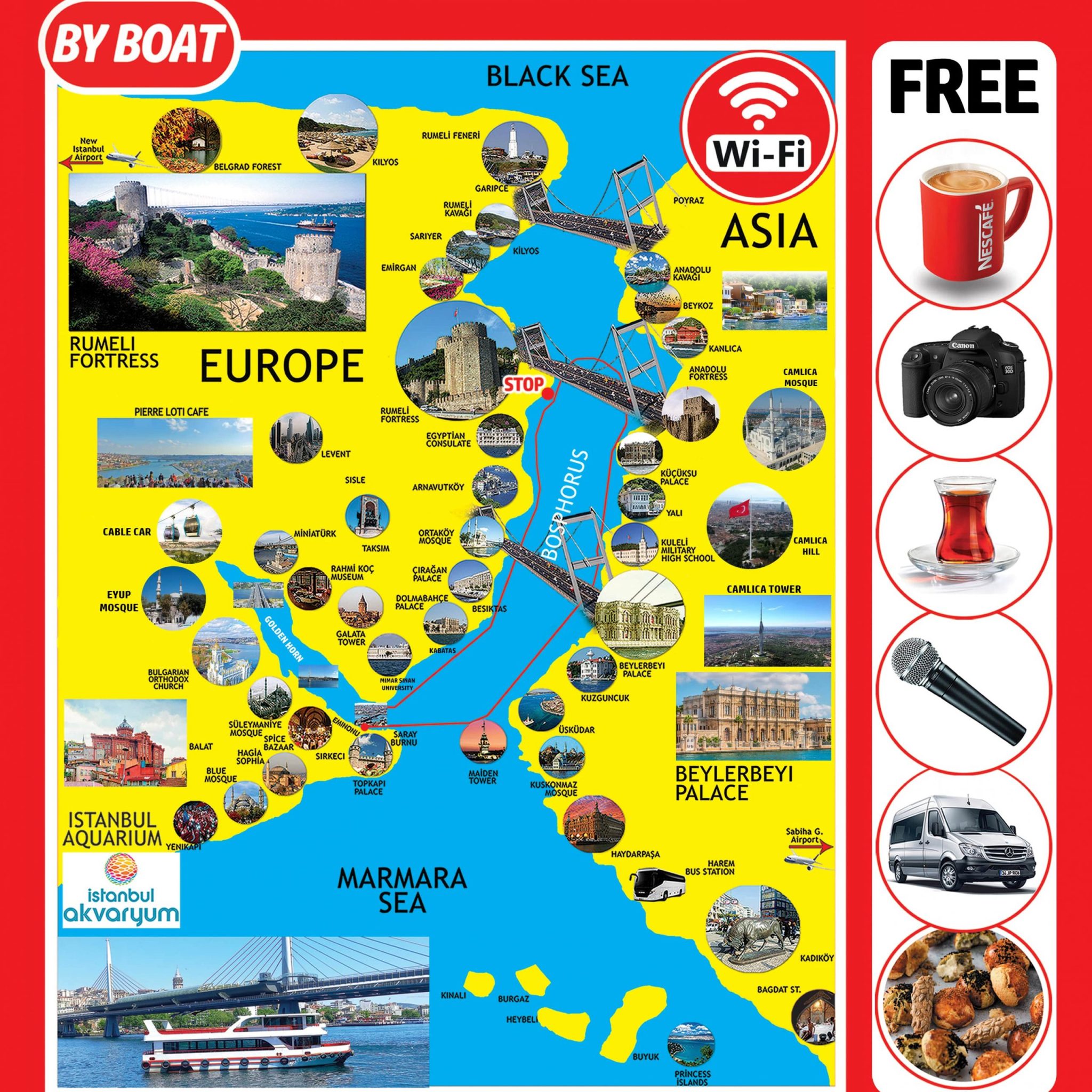 Explore the stunning city of Istanbul from a fresh perspective by embarking on our Afternoon Bosphorus Cruise Tour. This exquisite three-hour journey is available daily, enabling you to make the most of your afternoon while discovering the city's highlights.
Witness the breathtaking beauty of the Bosphorus throughout the day, and capture stunning photographs of your experience. Our tour ships have indoor and outdoor areas, ensuring that even on rainy days, you can still join us and immerse yourself in the beauty of Istanbul. Take advantage of this unique opportunity and make a reservation to secure your spot today.
Our tours are in high demand, so be sure to book early. Should you have any inquiries, please don't hesitate to contact us. We are more than happy to assist you in any way we can.
What Will You See During Afternoon Bosphorus Cruise Tour in Istanbul?
The Afternoon Bosphorus tour lasts 3 hours and includes a visit to the European shore up to the second bridge of the Bosphorus. During the second hour, the Tour stops near the Rumeli fortress, where passengers can disembark and explore the area. In the third hour, you will see the Asian side of the Bosphorus Istanbul, where visitors can admire numerous seaside mansions. Additionally, our Tour offers the opportunity to see and capture pictures of various notable locations in the city.
Beylerbeyi palace

Rumeli Fortress

Anatolian Fortress

Ortaköy Mosque

Maiden's Tower
You can also witness Ortakoy Mosque, Topkapi Palace, Hagia Sophia, and many other locations from the Bosphorus.
While crossing the Bosphorus, you can watch all these structures while drinking a FREE Turkish tea or coffee and take pictures you can never forget with happiness.
Afternoon Bosphorus Cruise Tour in Istanbul Itinerary:
The Afternoon Bosphorus Cruise Tour begins with a convenient hotel pickup service for all guests. Guests staying in Sultanahmet-Aksaray will be picked up from their hotel lobby at 11:00, while those in Taksim-Beyoglu will be picked up simultaneously. Once everyone has been picked up, we will head to the cruise to begin the Tour.
The Tour will start with a one-hour sightseeing trip along the European side of the Bosphorus, providing a chance to view many of Istanbul's famous landmarks from the water's edge.
After an hour, we will make a one-hour stop near Rumeli Fortress. During this stop, guests can leave the boat and explore the area with the help of our knowledgeable tour guide.
Once the stop is over, we will return to the boat and start the one-hour Tour of the Asian side of the Bosphorus. We will even get close to the Maiden's Tower, where guests can take amazing photos and selfies.
Don't worry about bringing your camera because we also offer a free photography service during the Tour. Once the Tour is complete, we will provide a FREE hotel shuttle service to take you back to your hotel.
This Tour will start at 11:00 am and will finish at 03:00 pm.
What's Included in this Afternoon Bosphorus Cruise Tour?
Our Tour is designed to make your experience more enjoyable. Our knowledgeable LIVE tour guides can speak English, Arabic, French, and Russian fluently and will explain the history of all the buildings you pass by.
Additionally, our Tour provides Free Wi-Fi, Tea, Nescafe, and even Photography services and Free Hotel Pickup and Drop-off shuttle.
If you want to witness the breathtaking Afternoon Bosphorus tour in Istanbul, our Tour allows you to do just that. If you have any questions or need more information, please don't hesitate to contact us.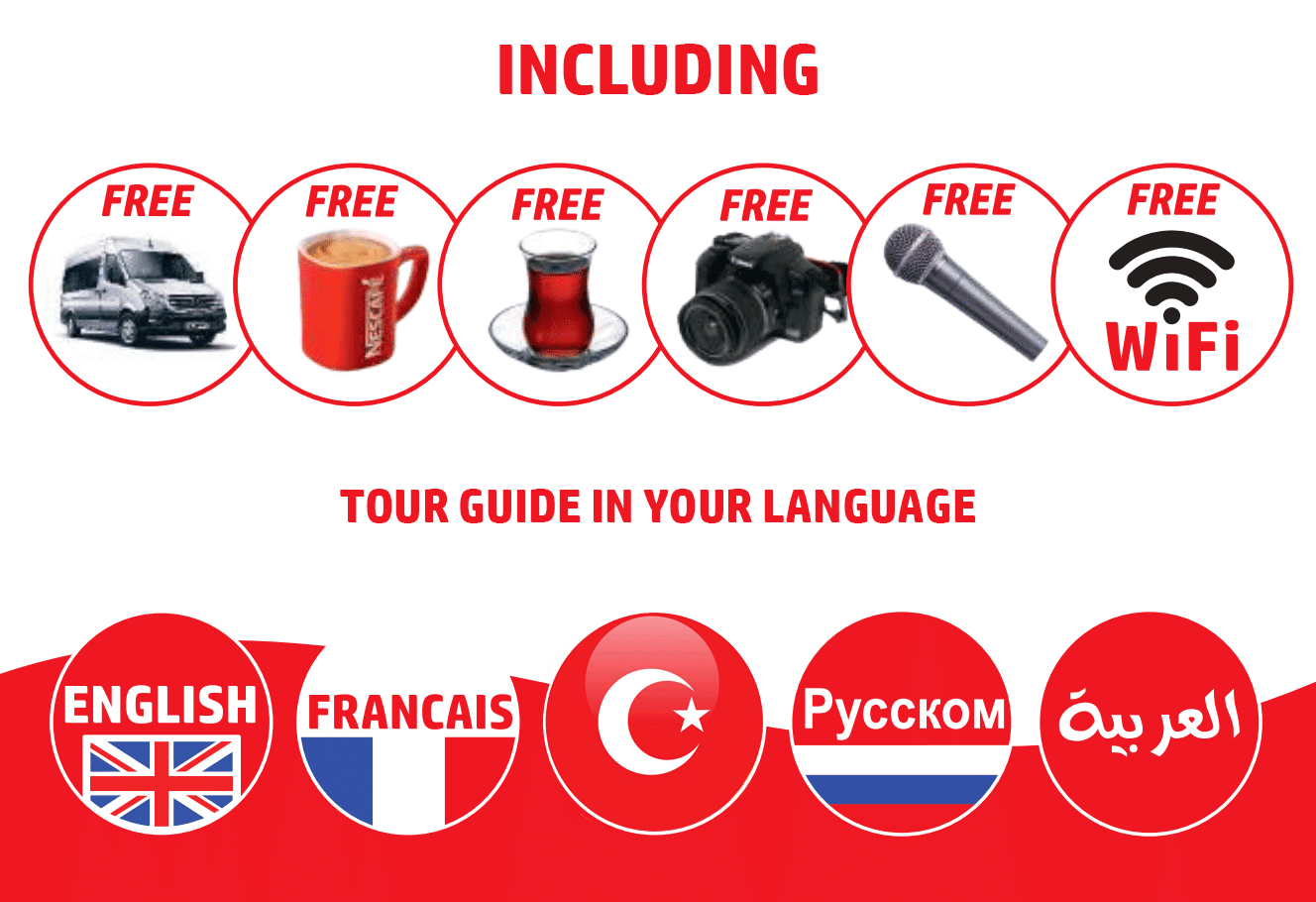 You can make reservations by site or directly from WhatsApp and pay for the cruise.
For a faster response, we recommend you contact us on WhatsApp.