About this tour
Are you looking for an unforgettable eco-friendly adventure in Bursa? Look no further than Green Bursa Tour! Nestled amidst breathtaking natural landscapes, Green Bursa Tour offers a unique opportunity to immerse yourself in the beauty of nature while exploring the region's historical treasures. Our expert guides will take you on a journey to discover vibrant greenery, pristine mountains, and cascading waterfalls that make Bursa a true paradise for nature enthusiasts. Green Bursa has everything to offer. Join us for an eco-friendly tour that positively impacts the environment. Book your Green Bursa adventure today!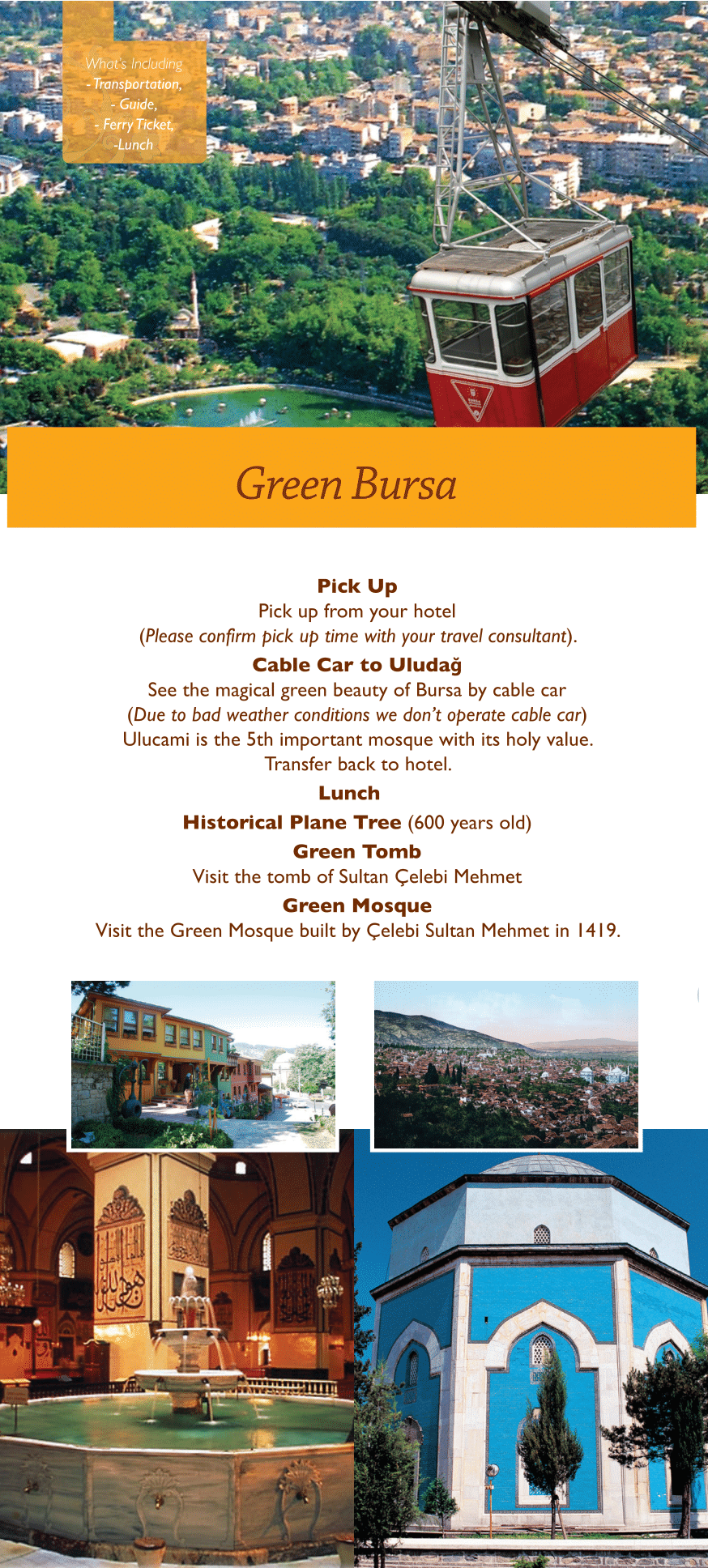 Exploring the First Capital of the Ottoman Empire
Experience the beauty of Bursa, also known as "Green Bursa," which is home to significant Ottoman landmarks and nestled at the foot of Mt. Uludag, once believed to be the mythical Mt. Olympus. 
Our journey begins with a ferry ride to Yalova and then a luxurious coach ride to Bursa, a city founded in the 2nd century B.C. and the first capital of the Ottoman Empire. You'll be amazed by the stunning Islamic architecture found throughout the city.
Our first stop in Bursa will be the Green Mosque and Mausoleum, constructed during the 15th century by the 5th Ottoman Sultan Mehmet Çelebi. Afterward, we will ride the cable car to Uludag Mountain and bask in the breathtaking view of the city. As we pass through a forest with a diverse array of trees, you will be inspired to snap photos at every turn.
Experience the refreshing mountain air at the summit, which reaches 2,486 meters above sea level. Following this, we will indulge in a barbeque lunch on the mountain.
Then, we will visit the stunning Old Tree over 600 years old. Additionally, we will stop at one of Bursa's most renowned sweet factories, where you can taste the most delicious delights. 
The journey will conclude with a late evening return to Istanbul, and you will be effortlessly transferred back to your hotel.
Green Bursa Tour Highlights:
Bursa
A Historic Capital and Trade HubSituated as the inaugural capital of the Ottoman Empire, Bursa boasts a rich historical significance. Notably, it garnered fame as the preeminent hub for silk trade during the reigns of the Byzantine and later the Ottoman empires.
Grand Mosque
A Testament to Architectural SplendorCommissioned by Yildirim Beyazit between 1396 and 1400, the Grand Mosque stands as an awe-inspiring testament to architectural prowess. It claimed the title of the largest and most ambitious mosque in its era. This remarkable achievement continues to captivate visitors.
Green Tomb
A Symbol of Bursa's DistinctivenessA prominent symbol of Bursa, the Green Tomb, crafted by Celebi Mehmet in 1421, stands as an exceptional architectural masterpiece. It is a cherished representation of the city's heritage. It is adorned with precious green tiles and an elegant octagonal structure.
Old Silk Market (Koza Han)
Where Commerce Met TraditionErected in 1451, the Old Silk Market, affectionately known as Koza Han, emerged as a bustling trading center for silk merchants. Nestled between the Grand Mosque and Orhan Mosque, this vibrant marketplace comprises 45 shops on its first floor and an additional 50 on the second, fostering a thriving commercial atmosphere.
Mount Uludag (Mount Olympos)
Mount Uludag, Embraced as a national park, often called Mount Olympos, is a renowned destination for winter sports enthusiasts, particularly skiing. This majestic mountain offers exhilarating slopes. It houses diverse flora and fauna, showcasing the region's natural splendor.
What Opportunities Does Green Bursa Tour Offer?
Bursa has many historical and natural beauties in Turkey. You can visit some of the most critical places on the Green Bursa Tour. Our tour includes visiting The Grand Mosque, Green Mausoleum, Koza Han, and The Covered Bazaar.
If you come with your camera, you can take unique photos!
Included things in Green Bursa Tour:
Pick-up and drop-off at centrally located hotels

Transportation by air-conditioned bus

Entrance fees

Lunch

One soft drink

Professional licensed tour guide

Services charges and local taxes
Note:
Our tour is free of charge for children between 0 and 2. 
You can enjoy every minute of the trip as our professional and licensed guides speak Arabic and English.
You can make reservations via the site or WhatsApp and pay in the car.