About this tour
Pamukkale Tour From Istanbul During this journey that lasts a whole day, you will see not only the well-known "Cotton Castle" or Pamukkale but also the historical city of Hierapolis and the picturesque village of Karahayit. Before traveling to a typical Turkish restaurant for an all-inclusive lunch, take in views worthy of being on a postcard, such as gorgeous white travertine pools. Purchasing this upgrade will provide you entrance to Cleopatra's Pool in Hierapolis.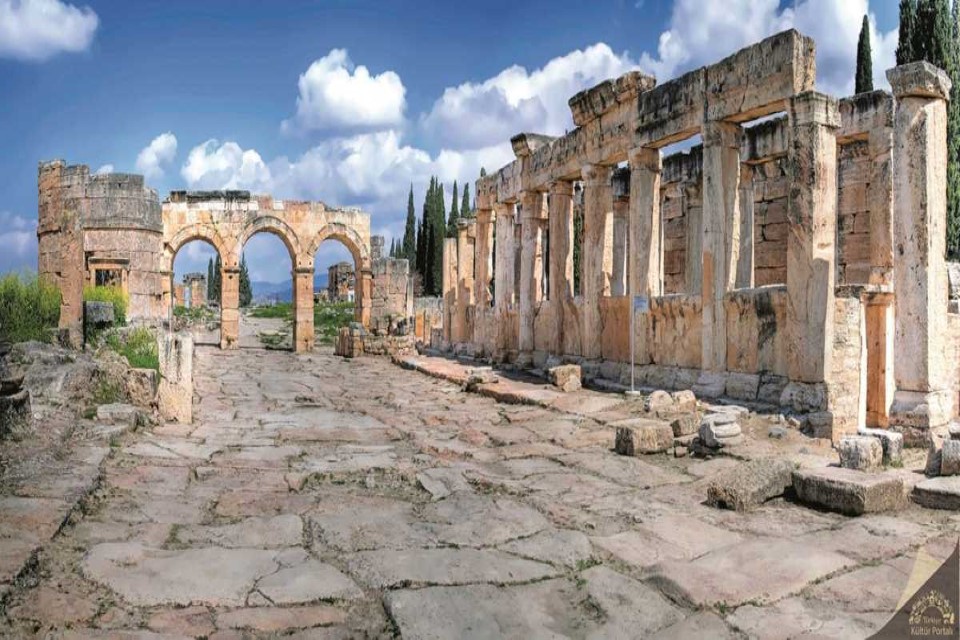 About Pamukkale:
Pamukkale is a geological formation that may be found in western Turkey. Its name, "cotton castle" in Turkish, is a beautiful reflection of the area's most notable characteristic: gorgeous white travertine terraces. Spectacular cascading formations are produced when water from boiling springs with a high calcium carbonate concentration flows down the mountains' slopes. Visitors to Pamukkale are welcome to stroll about on the terraces and even dip in the warm waters, which are said to have curative properties. Hierapolis was a Greco-Roman city built on top of travertine terraces, and this region is home to the historical ruins of the town. In addition to the region's natural beauty, this area is rich in history. Pamukkale is a site that should not be missed by anybody who is traveling through Turkey since it combines natural beauty and historical significance.
Since 1988, Pamukkale has been a UNESCO World Heritage Site for its environmental and cultural significance. Travelers have visited the region for millennia. Its ethereal beauty and rich history continue to lure people from throughout the globe. The terraces, ruins, and adjacent towns provide hiking, bird-watching, and village exploration. Due to stringent protection, Pamukkale has maintained its ecological and cultural integrity despite its popularity. Pamukkale is a must-see for history, nature, and adventure lovers.
What Facilities Does Pamukkale Tour From Istanbul Have?
You will be picked up from your Istanbul hotel early in the morning and transferred to the airport to catch your flight. The flight lasts roughly one hour. When you arrive, you will be welcomed by your guide and car and driven for approximately an hour to visit Pamukkale.
Pamukkale, which translates as "cotton castle" in Turkish, is a natural feature in Denizli province in southern Turkey. The city has hot springs and travertines, terraces of carbonate minerals left by flowing water. Because of its Pamukkale travertines, housing facilities, thermal spas, and natural and historical assets, the region is now one of the leading tourist attractions.
You will begin your journey by exploring the ancient city of Hierapolis. This UNESCO World Heritage site differs from all other old towns in that it is built on solid limestone strata produced by limestone water that flowed for millennia over this elevated-level plateau. The term "Hierapolis" means "sacred city," given to the city because of its many temples. Today's most notable attractions in Hierapolis are the theatre, the Apollo temple, and the Necropolis.
During the trip, you will view the Necropolis (Cemetery) of Hierapolis, one of Anatolia's most significant ancient cemeteries—the Roman Bath, Domitian Gate, and the Main Street, Byzantium Gate. Then you'll stroll to the natural warm water terraces produced by flowing warm water containing calcium. The water is roughly 35 degrees Celsius. Finally, you will get to visit the glittering white travertine terraces of Pamukkale, which are situated near the remains of Hierapolis. The unusual phenomenon occurs as water from the not springs loses carbon dioxide as it runs down the hillsides, creating layers of limestone. Pamukkale (cotton castle) was named after the layers of white calcium carbonate that piled up in stages on the plateau. You will get free time to swim in the old Cleopatra's Pool (OPTIONAL). After the excursion, you will be returned to your accommodation in Kuşadas / Selcuk.
Travel Recommendations:
Please remember to bring your swimsuit. To prevent injury, take your time walking over travertines. Summer is hot and dry, so bring a hat and sunscreen. Online check-in is recommended for flights.
This is a full-day excursion that leaves every day.
You can make reservations directly from WhatsApp.
For pricing information and more info, please get in touch with us on WhatsApp.