Golden Horizons: The Magic of a Sunset Cruise Istanbul is an excellent opportunity to unwind on a comfy cruise ship while taking in the stunning sunset scenery of Istanbul Strait. You'll also enjoy some sophisticated fun with your loved ones. So take advantage of this extraordinary cruise chance while visiting Istanbul this year.
Istanbul is the most appealing city for visitors since there is so much to see and do. While on this luxury boat excursion, you may chase the sunset and make your vacation more meaningful and fun. The evening in Strait is so beautiful and spectacular that you'll be sorry you didn't see it sooner. Combining the luxury yacht with the amenities available on the boat will give you the most admirable vessel journey ever.
We want to welcome you to a fantastic Sunset Cruise in Bosphorus as part of your "SeaLand Trip."
That spectacular cruise is an excellent method to see the gorgeous Istanbul Bosphorus. Attend us for a family gathering, a romantic date, or a pleasant catch-up with friends while taking in the city's sights.
Sunset is one of Istanbul's most eerie periods. The way the sun sets magnificently is a sight worth seeing and remembering for the rest of your life. The sunset in Strait is even more spectacular when you accompany it on a luxurious sunset boat. In every way, the Bosphorus Sunset Cruise would be your ideal excursion in this city.
Dream Istanbul Sunset Cruise
The Istanbul Bosphorus Sunset Cruise is here to show residents and tourists the finest this beautiful city offers. The soothing Bosphorus Sunset Cruise is suitable for the whole family, but it is also fun whether you are a couple or with a big or small group of friends.
Admire classic locations like Rumeli Fortress, Ortakoy Mosque, Dolmabahçe Palace, Bosphorus Bridge, Maiden's Tower, and more from the water. Then, as you sail across Istanbul Strait in the evening, please take photos of the sunset and the city skyline as it lights up for the night. This Istanbul Sunset Cruise will not take up much time and will be beneficial with that fantastic experience.
Enjoy stunning views of world-famous Istanbul landmarks such as the Dolmabahce Palace and the Ortakoy Mosque. View the Istanbul skyline, the sunset, or the lights of the Strait from the vessel.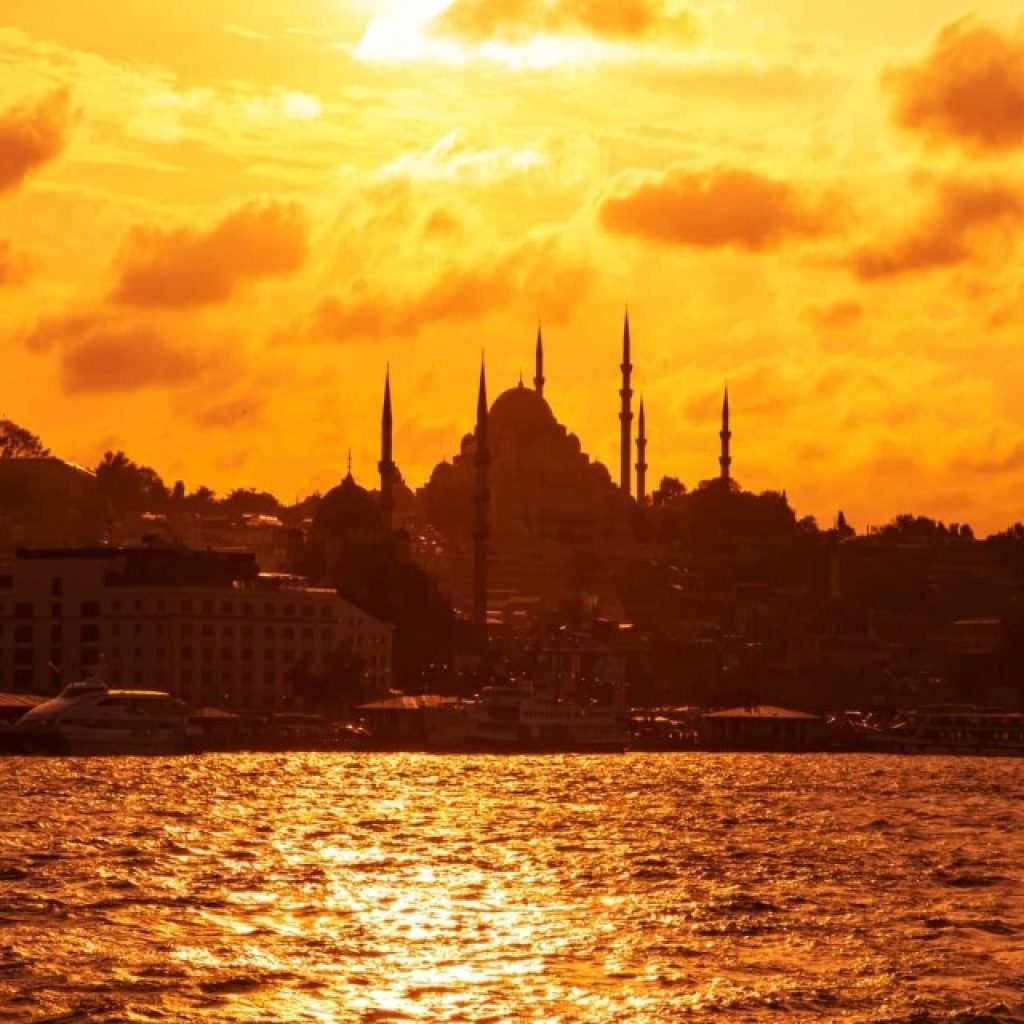 Istanbul Bosphorus Sunset Cruise – A Magical Experience
The sky crafts a stunning tapestry of hues as the sun sets below the horizon, throwing a lovely light over the Istanbul Strait. A sunset cruise in Istanbul is a unique experience that combines leisure, elegance, and natural beauty. The Istanbul Bosphorus Sunset Cruise is a must-try excursion whether you're looking for a romantic vacation, a family trip, or a fun time with friends.
Sail through the Bosphorus in a luxurious boat, passing by notable locations such as the Rumeli Fortress, Ortakoy Mosque, Bosphorus Bridge, Maiden's Tower, and more. Photograph the sunset and the metropolitan skyline as it comes to life with glittering lights. The tranquil waters, moderate breeze, and breathtaking surroundings create a peaceful atmosphere, making it an ideal place to relax and appreciate treasured moments.
Golden Horizons: The Magic of a Sunset Cruise
The Istanbul Cruise is an excellent opportunity to enhance your vacation to this exciting city. Whether you're a resident or a visitor, this experience will surely be a memorable highlight of your holiday. So, don't miss the opportunity to pursue golden vistas and make unforgettable memories on a spectacular sunset cruise in Istanbul.
At last, a sunset sail along the Istanbul Bosphorus is a genuinely magnificent experience that will stay with you forever. The tranquil seas, beautiful landscapes, and well-known sites offer an ideal setting for leisure, romance, and treasured memories. This incredible trip gives a unique view of Istanbul's splendor as the sun sets over the horizon, whether you're a native or a visitor. So don't miss the opportunity to capture golden moments by embarking on a stunning sunset cruise that will become a treasured highlight of your time in Istanbul.
You can make a reservation from the link below:
Bosphorus Sunset Cruise Tour in Istanbul