About this tour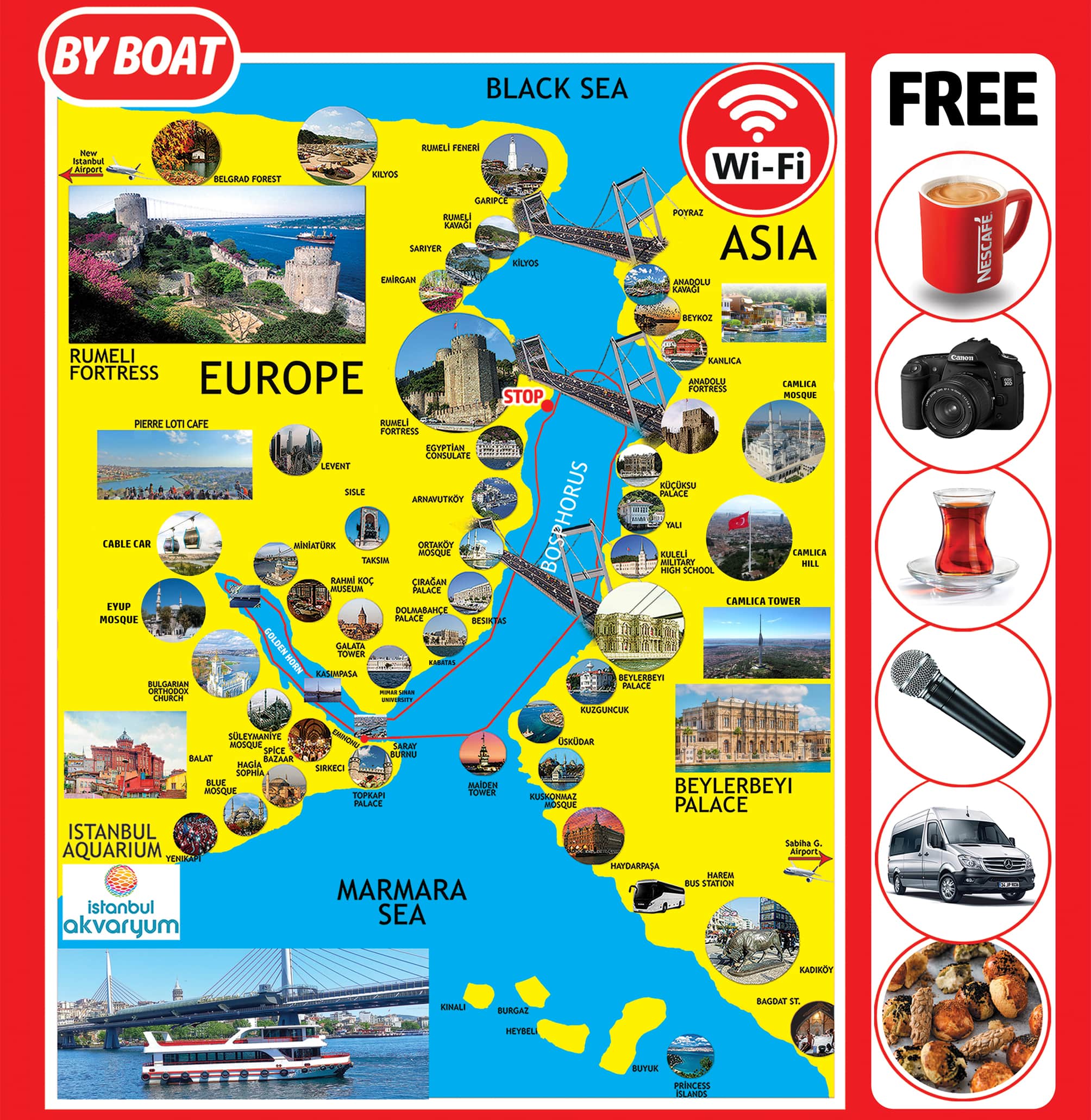 Are you looking for an unforgettable start to your day in Istanbul? Join us on the Bosphorus Cruise Tour With Lunch and embark on a delightful 4-hour journey to explore the stunning waterway. The tour offers a unique perspective of Istanbul, allowing you to see the Asian and European sides, admire the historical and cultural structures that line the water, and capture stunning photographs of the city's iconic landmarks.
But that's not all – this tour also includes a delicious lunch, adding to the overall experience of your morning adventure. Perfect for those who want to explore Istanbul quickly, make sure to book your tour in advance to secure your spot and make your morning unforgettable.
What Will You See During Bosphorus Cruise Tour With Lunch?
This Bosphorus tour lasts for a total of 4 hours. During the first hour, you will explore the historical Golden Horn. The second hour will take you to the European shore until the second bridge of the Bosphorus.
In the third hour, the tour stops near the Rumeli fortress, where you can leave the boat and enjoy a delicious lunch at a famous restaurant located by the seaside. Finally, during the fourth hour, you will see the Asian side of the Bosphorus Istanbul and admire numerous seaside mansions.
Our tour also offers opportunities to see and capture pictures of various notable locations in the city.
Golden Horn:
Bulgarian St. Stephen's Church
Fener vicinity, including the Ecumenical Orthodox Patriarchate
Jews formerly inhabited Balat
Ottoman shipyard
Old Fez factory
Eyüp, where Ottoman nobles buried
Bosphorus:
Beylerbeyi palace
Rumeli Fortress
küçüksu palace
Ortaköy Mosque
Maiden's Tower
In addition, Ortakoy Mosque, Topkapi Palace, Hagia Sophia, and many other locations from the Bosphorus.
If you want to know about other boat trip options, please check the link below:
Which Bosphorus Cruise Tour Should You Take in Istanbul?
Bosphorus Cruise Tour With Lunch Itinerary:
We offer hotel pick-up for guests who wish to join the Bosphorus tour. The Free hotel pick-up time is 10:00 am from the Sultanahmet-Aksaray and Taksim-Beyoglu areas. For pick-up from other places, kindly ask us on WhatsApp. We will then transfer you to the pier to begin our journey.
Once picked up, guests will be transferred to the pier, where the journey begins with an hour-long exploration of the historical Golden Horn. During this time, guests will have the opportunity to see historical bridges, towers, and churches. Next, guests will see the European side, including magnificent palaces, famous hills, parks, and ancient castles.
After this one-hour excursion, there will be a one-hour break near the Rumeli Fortress, where guests can enjoy a tasty lunch in a restaurant with a Bosphorus view. After the break, guests will return to the boat and cross the Bosphorus Bridge to the Asian side for another hour of sightseeing. This includes beautiful seaside mansions and the Maiden's Tower.
The Bosphorus cruise tour lasts four hours and concludes with guests being dropped off at their hotels. Please get in touch with us if you have any questions or want more information about the Tour.
What's included in the Bosphorus Cruise Tour With Lunch?
Our Tour is designed to make your experience more enjoyable. Our knowledgeable LIVE tour guides can speak English, Arabic, French, and Russian fluently and will explain the history of all the buildings you pass by.
Additionally, our Tour provides Free Wi-Fi, Tea, Nescafe, and even Photography services and Free Hotel Pick-up and Drop-off shuttle.
During the one-hour stop near Rumeli fortress, lunch will be served at one of Istanbul's renowned seaside restaurants.
Istanbul has a rich history and offers a unique beauty every day. If you're new to the city and considering a tour, take advantage of the Bosphorus Cruise Tour in Istanbul, which includes lunch. If you have any further questions, don't hesitate to contact us.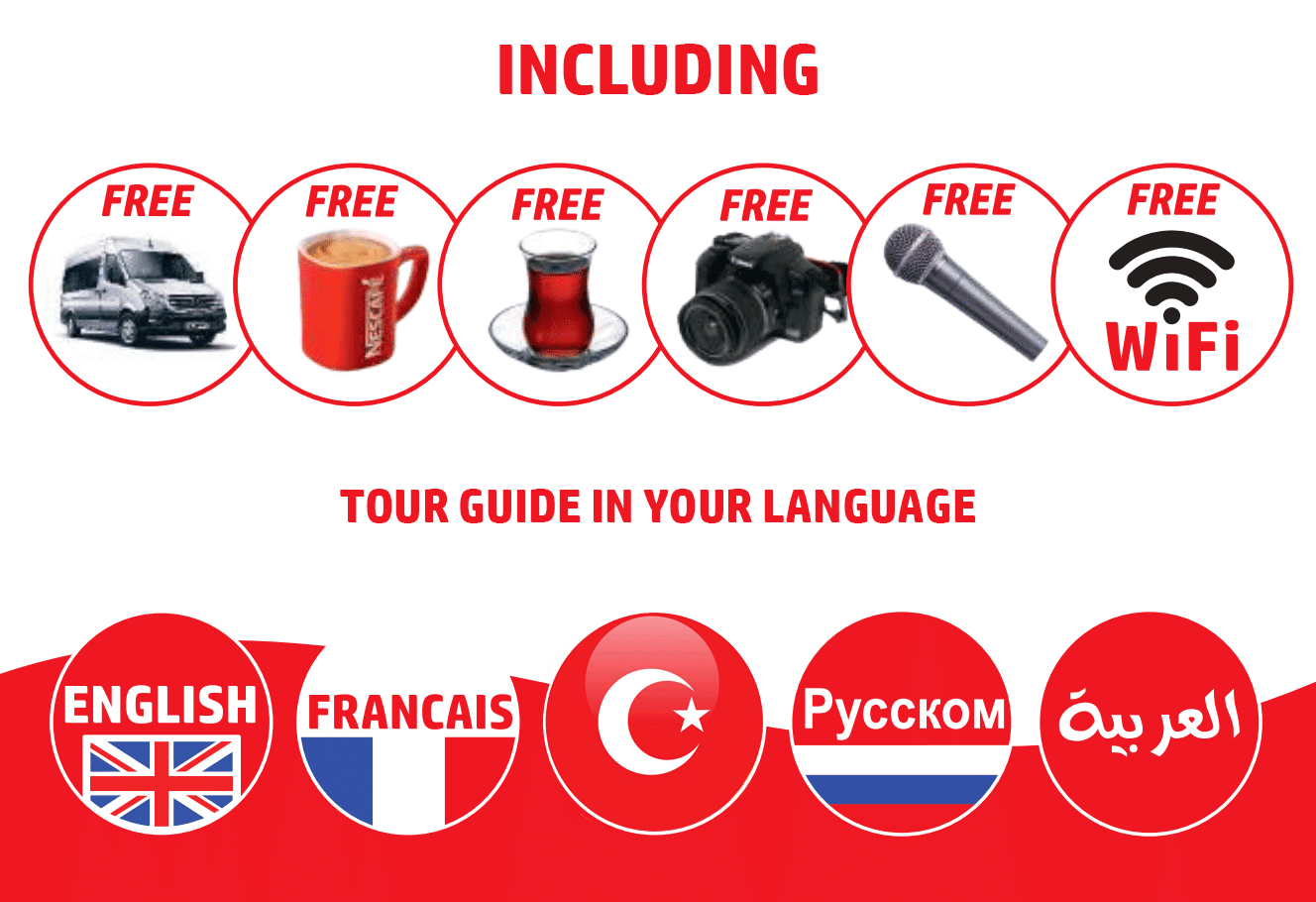 You can make reservations by site or directly from WhatsApp and pay for the cruise.
For a faster response, we recommend you contact us on WhatsApp.